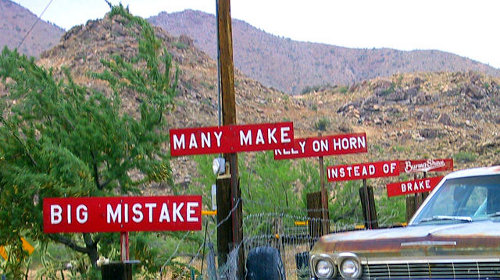 Futility Closet -
Between 1925 and 1963, Burma-Shave billboards were ubiquitous on American highways. Over the course of 18 seconds a motorist would pass six successive red and white signs that formed a rhymed verse:
SAID JULIET
TO ROMEO
IF YOU
WON'T SHAVE
GO HOMEO
BURMA-SHAVE
THE WOLF
IS SHAVED
SO NEAT AND TRIM
RED RIDING HOOD
IS CHASING HIM
BURMA-SHAVE
At its peak the campaign had 40,000 signs posted between Maine and Texas. The jingles were clearly whimsical, but anything that popular invites some smart-alecks:
FREE OFFER! FREE OFFER!!
RIP A FENDER
OFF YOUR CAR
MAIL IT IN FOR
A HALF-POUND JAR
BURMA-SHAVE
When this poem was posted, "scores of fenders of notable decrepitude arrived at the plant by parcel post and express," noted Frank Rowsome Jr. in his 1965 history of the campaign,
The Verse by the Side of the Road
. "Many enterprising people scavenged Minnesota junkyards, triumphantly bearing off rusty horrors that they lugged to the Burma-Shave offices." Each was gamely honored with a free jar of shaving cream, but this only made things worse:
FREE — FREE
A TRIP
TO MARS
FOR 900
EMPTY JARS
BURMA-SHAVE
At this Arliss "Frenchy" French, manager of a Red Owl supermarket in Appleton, Wis., produced 900 empty containers and demanded to be sent to Mars. Burma-Shave sent general manager Ralph Getchman to Appleton, where he found that French had heaped the jars in a huge pile in his store and taken out a full-page newspaper ad reading SEND FRENCHY TO MARS! After some bewildered havering, the company struck a deal with Red Owl's publicist — they sent French and his wife to Moers, Germany. "The Frenches had a marvelous time," remembered Burma-Shave president Leonard Odell. "We still get Christmas cards from them."
Progressive Review-
And then there's the one we remember:
BIG BLUE TUBE
JUST LIKE LOUISE
YOU GET A LOT
WITH EVERY SQUEEZE
BURMA SHAVE